Goettl Offers
At Goettl, our commitment to providing exceptional heating, cooling, and plumbing services goes hand in hand with our dedication to customer satisfaction. That's why we regularly offer promotions and discounts to our valued customers.
Curent Promotions
Season of Savings
Hydro Jetting
$250 off Hydro Jetting
Help your pipes and sewer line flow freely with expert hydro jetting services.
Cleaning of primary and secondary lines with high pressure water jet from ground level accessible cleanouts or access points.
Expires 12/31/23
Goettl Rejuuuvenation®

$129 FURNACE Rejuuuvenation®
Get your furnace in tip-top shape with a Goettl-exclusive Rejuuuvenation—it's more than a tune-up!
Expires 12/31/23

Plumbing Inspection

$150 Plumbing inspection
Ensure your plumbing systems are in prime condition and catch any minor issues before they become big problems!
Full water heater inspection, water quality test, water and drain system operation testing, and full visual system inspection.
Expires 12/31/23
Duct Cleaning
$100 Off Duct Cleaning
Proper duct cleaning is essential for your home and the health of yourself and your family members.
Duct system cleaning and register surface Rejuuuvenation® on existing systems.
Expires 12/31/23
Drain Clearing

$80 DRAIN CLEARING*
Clogged drains can ruin your day and your property. Whether it's a sink clog or a sewer line blockage, let the speedy plumbing professionals at Goettl help get your drains clear and flowing.

Camera Inspection
Ground Level Cleanout
Wall Cleanout
Laundry Drain
Kitchen Sink
Bathroom Sink
Shower Drain
Tub Drain
*Reasonably accessible cabling of a single line, with ground level access, any additional work needed will be quoted. Expires 12/31/23
Zero Payments Until 2025
ENJOY ZERO PAYMENTS UNTIL 2025 ON ALL NEW EQUIPMENT PURCHASES
Goettl is committed to making your home comfort solutions more affordable and accessible than ever.

Water Heaters
Water Purity Systems
Condensers
Furnaces
IAQ Systems
And more!
Expires 12/31/23

Heat Your Home

Heat YOUR HOME FOR ONLY $98/MONTH
Our financing offer allows you to enjoy the benefits of a high-efficiency heating system for as low as $98 per month, making it easier than ever to maintain a comfortable climate in your home.

1-Star Gas Furnace ($8,576 value)
15-Year 10.99%
Monthly Payment $98
Payment Factor .01149
Expires 12/31/23

Senior, Military & First Responder Discount
5% OFF ANY SERVICE FOR SENIORS, MILITARY, AND FIRST RESPONDERS
All seniors, military, and first responders qualify for 5% off any service.
Not to be combined.
Testimonials
What Our Customers Say About Us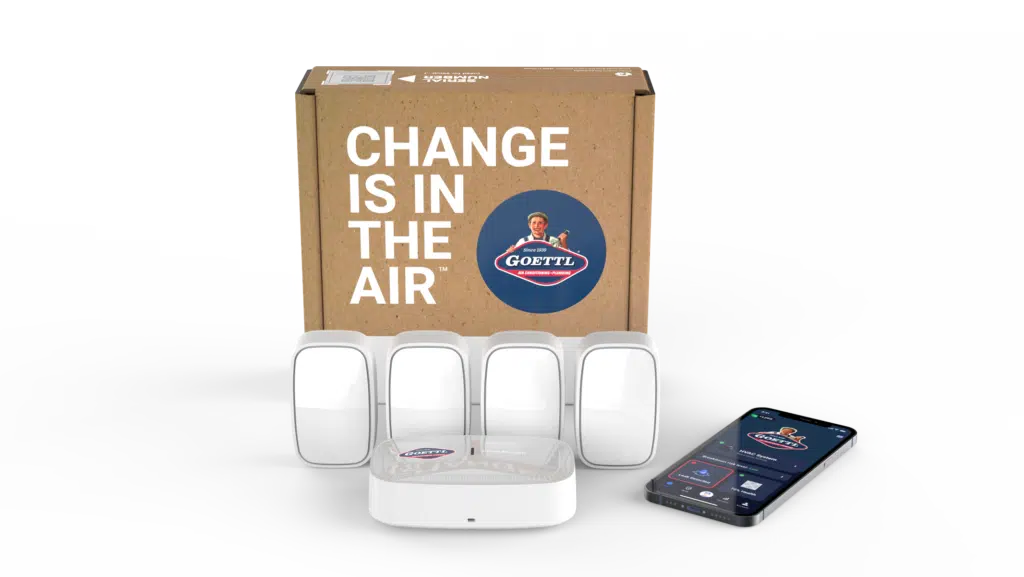 sadie has a nose for quality.
Smart Sadie Maintenance Program
Introducing Smart Sadie: Your worry-free HVAC and plumbing maintenance solution. Enjoy year-round comfort and prevent costly problems with SmartAC.com sensors. Call us to join today!
Membership Benefits
24/7 Smart Remote Monitoring for AC, Heating & Plumbing
Routine AC, Heating & Plumbing Maintenance (as needed)
Emergency Service Priority Scheduling
No Emergency Evaluation Fees or Trip Charges
No After-Hours/Holiday Rates
10% Discount on Repairs (parts and labor)
2-Year Parts and Labor Warranty on Repairs
Annual $25 Air Filter Purchase Voucher
$150 Loyalty Credit Sign-Up Bonus & $10 Monthly Credit (applicable to equipment purchases only)
And more!
Our Locations
Find a Location Nearest to You